The Champaign Rotary Foundation is a non-profit foundation whose charter was granted by the State of Illinois in 1976. It has been established to provide a medium for contributions which are deductible for Federal Income Tax purposes. The purposes of this foundation are charitable, religious, educational, and scientific as interpreted by section 501(C) of the Internal Revenue Code of 1954. It provides the main source of Champaign Rotary funding for community service projects.
Champaign Rotary Foundation Bylaws.
There are a number of grants available from the Champaign Rotary Club. Here is a summary of these grants with information about their focus and criteria along with a link to relevant documents:
1. Clark Grants. Champaign Rotary established Clark Grants in order to enable local non-profits to apply for unrestricted funds. The funds are distributed throughout the year to Champaign County based non-profits based on the recommendations of the Clark Grant Committee of the Champaign Rotary Club.
2. Cannon Grants. Champaign Rotary invites proposals in the areas of arts and humanities, environmental concerns, education, health and human services, urban affairs and youth activities. While applications in any of these categories will be considered, awards may not be made in every category. Successful proposals will address problems to be solved or opportunities to make a difference in Champaign County.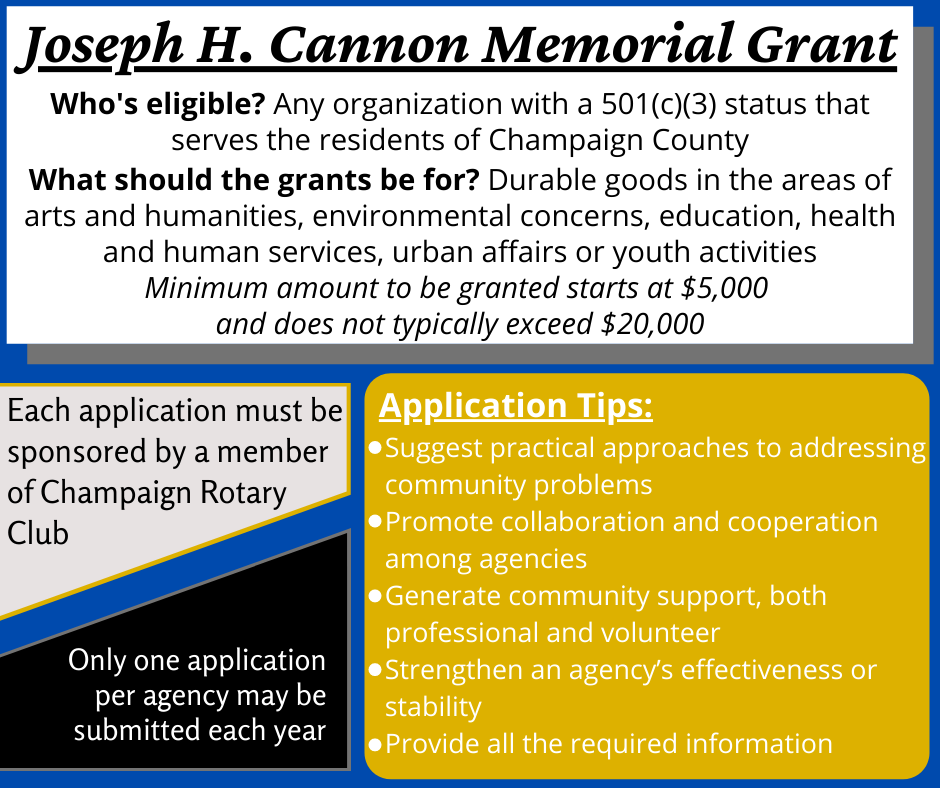 3. Unrestricted Fund Grants. Allows Champaign Rotary to provide grants to annual projects that the club chooses to support and special projects approved by the Rotary Board and the Champaign Rotary Foundation Board.
Note - All grant submissions must be sponsored by a Champaign Rotary member.
Champaign Rotary Foundation History of Giving:
2019-2020: $275,027 Click to view Annual Report
2018-2019: $111,107
2017-2018: $121,894
2016-2017: $99,044
Current Rotary Foundation Board Leadership:
Term Expires June 30, 2022:
Anthony Corapi - President
Scott Burge
Tracey Wahlfeldt
Term Expires June 30, 2023:
Maureen Banks
Jared White - Vice President
Jay Stortzum
Term Expires June 30, 2024
Joan Dixon
Jay Downey
Rebecca Ries
Appointed Treasurer - Renee Osterbur
Appointed Secretary - Shelly Romack
Want to be an Art Skelton Fellow? The intent of the Art Skelton Fellow Program is to incentivize Champaign Rotary Club members and interested members of the community to contribute to the Champaign Rotary Foundation through recognition of significant donations. Funds contributed will support grant requests that:
Provide for partnering and matching gift projects that are tangible and self-perpetuating.
Will be used, primarily, within Champaign County.
Create partnerships and build good will with other organizations and clubs.
Increase Rotarians' participation in projects.
Provide benefits as broadly to the population as possible.
To review the Art Skelton Fellow policy, click here.
Champaign Rotary Foundation Legacy Circle. Make a lasting impact on our club, the community, and our world by including The Champaign Rotary Foundation as part of your planned gifts. Interested? Please click here for more information about the Legacy Circle.